Umbraco Spark innovation conference is a must for all Umbraco developers that want to find out what's going on with Umbraco. Focusing on development, innovation and forward-thinking.
Umbraco Spark is back on 10th March 2023! Buy your tickets now. 
LINE UP
Bristol will play host to the third Umbraco Spark Innovation Conference! With innovative and exciting talks from some of Umbraco's biggest names, two tracks and an after-party, what more could you want on a Friday in March?! We are currently building up an incredible lineup. Check out some of the great speakers we already have confirmed below:
If you are interested in being a speaker at Spark 2023 then we'd love to hear from you. You can submit your idea for a talk here. 
Why.
What's in it for you?
2 tracks of innovative and inspiring top tier talks
The epic Umbraco Spark notebook
An Umbraco Spark t-shirt
Tea / coffee
Lunch
Beers at the end of the day
Evening social - near M Shed
Where.
The M Shed, located on the harbourside, is a 5 minute walk from the city centre, or a 20 minute walk from Bristol Temple Meads train station. To find out more about getting to the M Shed, visit the M Shed directions page.
Date

Fri / 10 Mar 23 / 9AM

Name

Umbraco Spark. Conference

Address

M Shed Bristol, BS1 4RN

Time

9am - 11pm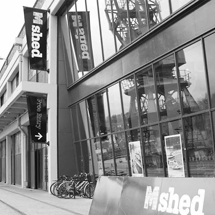 Spark 2020.
View larger image

View larger image

View larger image

View larger image

View larger image

View larger image

View larger image

View larger image

View larger image

View larger image

View larger image

View larger image

View larger image

View larger image

View larger image

View larger image

View larger image

View larger image

View larger image

View larger image

View larger image

View larger image

View larger image

View larger image

View larger image

View larger image

View larger image

View larger image

View larger image

View larger image

View larger image

View larger image

View larger image

View larger image

View larger image

View larger image

View larger image

View larger image

View larger image

View larger image

View larger image

View larger image