IGNITE YOUR DEVELOPMENT JOURNEY:
UMBRACO SPARK IV CONFERENCE 2024 - UNVEILING THE FUTURE OF UMBRACO
Umbraco Spark will be back on Friday 8th March 2024 at the M Shed in Bristol. With the resounding success of the past three editions, it's gearing up to be the ultimate rendezvous for every dedicated Umbraco developer. As the renowned hub for all things Umbraco, our conference is where innovation meets expertise, and where the future of this dynamic platform is revealed. From cutting-edge development insights to fostering an atmosphere of forward-thinking, this is the conference that needs to be on every Umbraco developer's radar. 
This one-day conference is dedicated to bringing together developers for a day of learning, networking and inspiration. Focusing on innovation, sustainability and forward-thinking, the conference will feature a line up of expert speakers sharing their knowledge and experience on the latest trends and innovations using Umbraco. Attendees will also have the opportunity to hear from Umbraco HQ as well as key developers and MVPs from the wider Umbraco community. Mark your calendar for 8th March 2024 - because you won't want to miss this. 
WHAT.
The Umbraco Spark Innovation Conference is a must for all Umbraco developers who want to find out what's going on with Umbraco. After the exhilarating experience of Umbraco Spark 2023, we extend our heartfelt gratitude to our attendees, sponsors, and speakers for contributing to its phenomenal success. Rest assured, we're already hard at work to ensure that Umbraco Spark IV will surpass all expectations and make its mark as the most innovative conference yet. 
With your help, we are going to create another incredible line up. If you are interested in being a speaker at Spark 2024 then we'd love to hear from you. You can submit your idea for a talk here. 
Why.
What's in it for you?
2 tracks of innovative and inspiring top tier talks
The epic Umbraco Spark notebook and 2024 Spark t-shirt
Tea/coffee (all you can drink)
Buffet lunch to fuel you for the afternoon sessions
Beers at the end of the day overlooking the harbour
Evening social to get to know all your fellow attendees!
Where.
The M Shed, located on the harbourside, is a 5 minute walk from the city centre, or a 20 minute walk from Bristol Temple Meads train station. To find out more about getting to the M Shed, visit the M Shed directions page.
Date

Fri / 8 Mar 24 / 9AM

Name

Umbraco Spark Innovation Conference

Address

M Shed Bristol, BS1 4RN

Time

9am - 5pm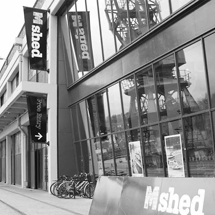 THE FLOOR IS YOURS
Whether you want to share your excitement and new discoveries, get feedback on a new project or discuss the diversities of Umbraco, this is your chance.
We are ideally looking for talks about any new or innovative technologies (AI, MAUI, etc); technical deep dives; new ideas and concepts you want to share; topics related to sustainability. 
If you have something you think would work at Umbraco Spark, submit your talk below by 31 January. 
Spark 2023.
View larger image

View larger image

View larger image

View larger image

View larger image

View larger image

View larger image

View larger image

View larger image

View larger image

View larger image

View larger image

View larger image

View larger image

View larger image

View larger image

View larger image

View larger image

View larger image

View larger image

View larger image

View larger image

View larger image

View larger image

View larger image

View larger image

View larger image

View larger image

View larger image

View larger image

View larger image

View larger image

View larger image

View larger image

View larger image

View larger image

View larger image

View larger image

View larger image

View larger image

View larger image

View larger image

View larger image

View larger image

View larger image

View larger image

View larger image

View larger image